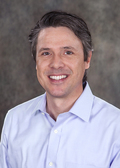 Philip Arnold
Director of eLearning Systems
BS, Missouri State University
MS, California State University
Philip Arnold became Director of eLearning Systems in February of 2011.  Before joining the OTC Online team, Philip served as sales manager for Springfield Blue Print, a company which services a base of over 3,000 customers in four states with products ranging from printing and scanning hardware, online services and supplies.  His duties during his twenty year career included customer service, training, account maintenance and growth for a diverse clientele.
In 2009, while serving as sales manager, Philip was recruited as an industry professional to develop and instruct several online Business courses for Ozarks Technical Community College, including selling and retailing.
As the Director of eLearning Systems, Philip manages support, production and training for all instructional media systems used to facilitate teaching and learning through OTC Online.  Additionally, his responsibilities include research, promotion and application of emerging online technologies.
Philip holds a B.S. in Operations Management from Missouri State University and a Masters in Online Teaching and Learning from California State University, East Bay. An active member in Missouri Distance Learning Association, Philip was elected to its Board of Directors in 2009 and served as the organization's President from 2011-2012.