Resources to Help You Succeed
Online Faculty Resources
We believe in giving online faculty the skills, knowledge, training and support that allow them to provide strong, high-quality courses to the online student. Maybe you want to apply to teach at OTC Online, maybe you would like to continue your online teaching development or maybe you just need support. Below you will find links to several faculty resources. If you have questions, please email OTC Online at online@otc.edu or call (417) 447-8200
New Faculty Information
Instructional Support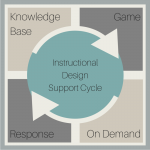 In order to support faculty in the design, creation and delivery of rich, engaging, valuable teaching and learning experiences for students and faculty that help them make connections between learning and the real world and use that learning to improve the world around them, we provide a system of instructional support resources.
Response Support
Staff will provide on demand (within operating hours) technical support assistance to faculty as they encounter issues during the course of teaching. Faculty may contact support by phone, email or through the Facebook group.
Knowledgebase
The Knowledgebase will serve as a repository for tutorials and information that faculty can access at anytime from anywhere. This will provide support to faculty during off hours.
The Game
The Game provides faculty opportunities to learn and practice skills in an interactive environment at their own pace with the support of staff. The Game covers each aspect of teaching and learning in 7 tracks, Blackboard Functions, Technology, Course Design, Course Delivery, Assessment, Accessibility and College Policies & Protocols.
Support On Demand
For faculty who need additional training, Support On Demand (SOD) allows faculty to receive support when they need it. Faculty can request SOD training from a list of topics on our website or request a topic of their own choosing. Staff will meet with faculty at their convenience.
OTC Online Forms and Documents
Grade Change form can be found on the AccessOTC page