What is the Idea Lab?
The Idea Lab is a creative space where OTC faculty and staff can collaborate and share ideas for improving teaching and learning at OTC. Everyone is welcome in the Lab and if you have an idea for your course, department, or program, bring it to the lab to discuss or share! The lab is configured with four workstations and a technology-enabled conference space to allow for individual faculty work and small group meetings and OTC Online staff is available to assist with instructional design and technical support! Click on "Projects" below to see a few of the design and development projects we've been working on.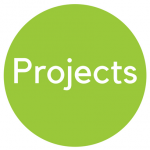 Join the Awesomeness!
Stop by for a visit! We're located in the Information Commons building (IC104) on the Springfield campus. Our normal hours are 8AM – 5PM, Monday through Thursday and 8AM – 4:30PM on Friday. You can always reach us by phone at 417-447-8200 or by email at online@otc.edu.
You can also keep up with what's happening in the Idea Lab through the OTC Faculty Facebook Group. Click the Facebook icon below to request to join the group. We hope to see you there!